Our Stores are Open! We Miss you, Come and Visit Us - Free Shipping All Orders Over $50*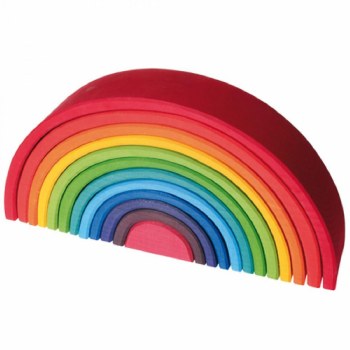 Grimm's - Authentic 12pc Rainbow *Backorder until of July 2020*
Item Number: 102408
$120.00
Important Disclaimer:
Please note that in the making of Grimm's toy; wood is a natural material and as such, has various unique markings. Variations in wood grain, color, knots, texture or dye transfer are all natural occurrences in these hand-stained wooden products. These unique variations and markings are proof of quality, not defects. Enjoy the markings that make your Grimm's toy unique!

Grimm's 12 Piece Rainbow is a versatile toy perfect for your growing little one. Toddlers can use the rainbow for stacking and sorting, and as they get older your children can use them to make a variety of different things like a fence for toy animals, a tunnel or bridge, a doll house, and even a cradle for dolls.

Made of lime wood

Painted with non-toxic water based color stain

Dimensions: 38cm L, 18cm H
Customer Reviews
Average rating:
---
1 of 1 people found this review useful:
All ages love it!, 12th Feb 2019
Reviewer: Sally Waldron
Bought this for my 4-year old daughter but her brothers (ages 6 and 10) seem to enjoy it even more than she does. I can tell we will have years of fun, plus it's a beautiful decoration when not being played with. Win!
---
2 of 2 people found this review useful:
Instant hit!, 1st Jan 2018
Reviewer: Gina Rizzo
My 2.5 year old daughter instantly began playing and exploring the different ways to play with her large rainbow set. I'm big on toys that offer multIple layers of play and function and this one is exactly that. The bonus is how great it looks...the colors are beautiful and vibrant and the piece looks great as a whole sitting on our credenza as well strewn on our floor after play ;)