Our Stores are Open! We Miss you, Come and Visit Us - Free Shipping All Orders Over $50*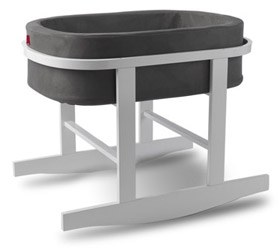 Monte Design - Bassinet Ninna Nanna - Charcoal & white
Item Number: 10473701
$395.00
$50.00 oversize handling fee.
Beautiful and simple, the Ninna Nanna bassinet is designed to keep the focus on your gorgeous new baby (while showing off your great sense of style!). The removable basket (which makes a great portable bed for trips to the Grandparents' house) nestles into a solid birch rocker base. When baby outgrows the bassinet, the basket is perfect for corralling and displaying all those plush stuffed animals and cool toys you received at your baby shower.


Basket and stand are handcrafted and sustainably made in Canada using the highest quality materials

Basket includes soft and protective sides that are covered by a removable and machine-washable fabric

Basket available in white micro suede or heather grey fabric

Polished chrome legs with solid walnut rocker base

Includes a waterproof mattress

Includes 2 white fitted 100% cotton mattress sheets

Newborn can use until baby is 18 pounds or can roll over & move around, whichever comes first

NEVER LIFT BASKET WITH CHILD INSIDE

Quick and easy assembly for rocker base

Our foam is free of any flame retardant chemicals.