Our stores
are Open! We Miss you, Come and Visit Us - Free Delivery all Continental US Orders over $50*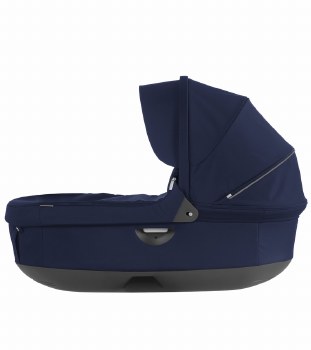 Stokke - Crusi/Trailz Carrycot - Deep Blue
Item Number: 101403
$399.99 $199.99 $200.00
The Stokke Stroller Carry Cot is designed specifically to keep your newborn cozy and safe on your daily journeys. It is extremely stable and easy to travel with and carry, and has a sturdy shell along with a cozy interior lining made to keep your baby comfortable. It fits the Stokke Crusi and Stokke Trailz chassis and is the perfect carriage for an on-the-go parent.
Features:

Carry cot weight in kg/lbs: 4,8/10,6

Carry cot suitable for weight in kg/lbs: 0-9/0-20

Materials: Chassis: Made of aluminum and various plastic and composite materials. Textiles were made of polyester. Transparent rain cover is made of phtalate free PVC. The mosquito net is made of polyester mesh.

Suitable for babies from birth to 20 lbs

Removable visor provides your baby with protection from light and wind.

Optional opening for ventilation of the hood keeps baby cool on warmer days, and decreases the risk of moisture inside the carry cot.

Carry handles fasten to the sturdy plastic for secure carrying.
Includes:
Carry Cot Shell with textile

Carry Cot Mattress

Carry Cot Cover

Carry Cot Visor for Canopy

Carry Cot Canopy